Dog/Cat Doors Adelaide
Installing a dog or cat door to your door allows your animals to come and go as they please, without any hassle to you. Gotcha Glass in Adelaide can supply and fit a dog or cat door to a glass door or window.
Our dog and cat doors are clear all round, so they blend better into a clear glass door or window. Our pet doors have a four way locking mechanism to ensure you have control over your pet. They can be locked in either direction, both directions or not at all. Pet doors fitted to sliding doors do not affect the sliding ability of the door as they are thin enough not to interfere.
When wishing to fit a pet door to your home we recommend replacing the existing glass. We recommend replacing it with A-grade toughened safety glass, as per Australian Standards AS1288/2006. Fitting the pet door to toughened glass allows it to be more durable with the vibrations of the pet door moving and it will never crack.
The dog doors allow a dog the size of a beagle to enter and exit. See dimensions of door below.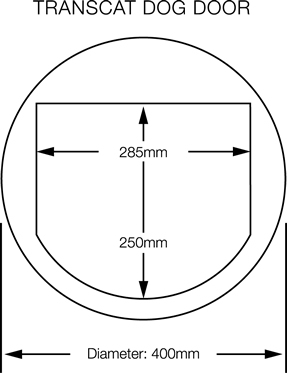 The cat doors allow any cat to enter or exit. See dimensions of door below.

The dog and cat doors can be modified later on if you are finding unwanted animals in your house. A mechanism can be attached to your pets collar allowing only them to enter when close enough to the door to set the trigger off.

If you are considering a pet door in your house, give us a call on (08) 8250 1642 for our friendly staff to come to you for a free measure and quote.